Somewhere In Between
Buy on Amazon

Buy on Bandcamp
https://miamontenegro.bandcamp.com/

Buy on iTunes
https://music.apple.com/us/artist/mia-montenegro/30840706
"Somewhere In Between" includes ten songs, all written by Mia, and displays her versatility as a songwriter, from slammin' acoustic rock tunes to ballads. Folk, country, classic rock, roots rock, and alternative styles are all clearly identifiable throughout the CD as Mia, with her powerful alto and acoustic guitar, tears it up through songs of loves lost and won, friends come and gone, and dreaming of the Southland. The song "I Wanna Go South," received a Certificate Of Appreciation In Songwriting from Billboard Magazine. That same song was also chosen for a compilation CD, "Oasis Rock & Roots:Volume 6," that featured a number of prominent acoustic/alternative rock artists from all across the country.
"Somewhere In Between" Credits :
All words and music by Mia Montenegro * Mia Montenegro - Lead and harmony vocals, acoustic guitar, 12-string guitar * Kevin Patrick - Acoustic, 12-string, electric and bass guitars, guitar synth, drums * Bob Kennedy - Piano, organ, keyboards, drums * Chris Gerard - Additional background vocals * Jim Eannelli - Electric guitars, pedal steel, slide
"Again" - Suburban Gypsies

Only $7.00 includes shipping!! Click on the "Buy Now" link above to purchase this CD online using a credit card. This Live CD includes covers and some early versions of Mia's originals and features the 1996 Sub Gyp lineup of Mia, Dale Nemoir and Tony Roland.
Entire track listing in order is as follows :
1) I'll Be There For You 2) Breakfast At Tiffany's 3) I Wanna Go South (Mia Montenegro) 4) Living In The Past 5) Hold My Hand 6) Piece Of My Heart 7) Bittersweet 8) Mary Jane's Last Dance 9) You Oughta Know 10) Can't You See 11) Like The Way I Do 12) Guilty (Mia Montenegro) 13) Again (Mia Montenegro) 14) Peace Of Angels (written by Tony Roland) 15) Your Little Secret
"Best Of...mostly" - Suburban Gypsies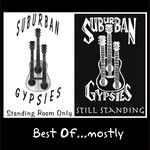 19 Tracks - only $15.00 includes shipping!! Click on the "Buy Now" link above to purchase this CD online with a credit card. This CD is a compilation of most of the songs that appeared on the Suburban Gypsies' two live cassettes, "Standing Room Only" and "Still Standing" that were released back in the '90s. It features the original Sub Gyp lineup of Eric Kiefer, Mia Montenegro, and Mykl Stanley. People have been constantly asking over the years whatever happened to the old Gypsies cassettes - so now here's your chance to get the CD and and relive the heyday of the '90s! And if you were there, lived it, or were a part of it, you know what an amazing time it was.
Entire track listing in order is as follows:
1) Volcano 2) Don't Give Up On Love (written by Mykl Stanley) 3) Love Of The Common People 4) 500 Miles (I'm Gonna Be) 5) I'd Give Anything (written by Mia Montenegro) 6) Good Things 7) Melt With You 8) Come To My Window 9) Uncle John's Band 10) Stay With Me (written by Mykl Stanley) 11) He Thinks He'll Keep Her 12) Hunger Strike 13) Human Wheels 14) Hey Jealousy 15) For A Friend (written by Mia Montenegro) 16) Mmm...Mmm...Mmm...Mmm 17) Runaway Train 18) What's Up 19) BONUS TRACK - The Boxer